We've put together a guide on all the basics involved in beginning a valid claim against a takeaway. Before you get started, you must have evidence that a takeaway breached their duty of care, causing your personal injury.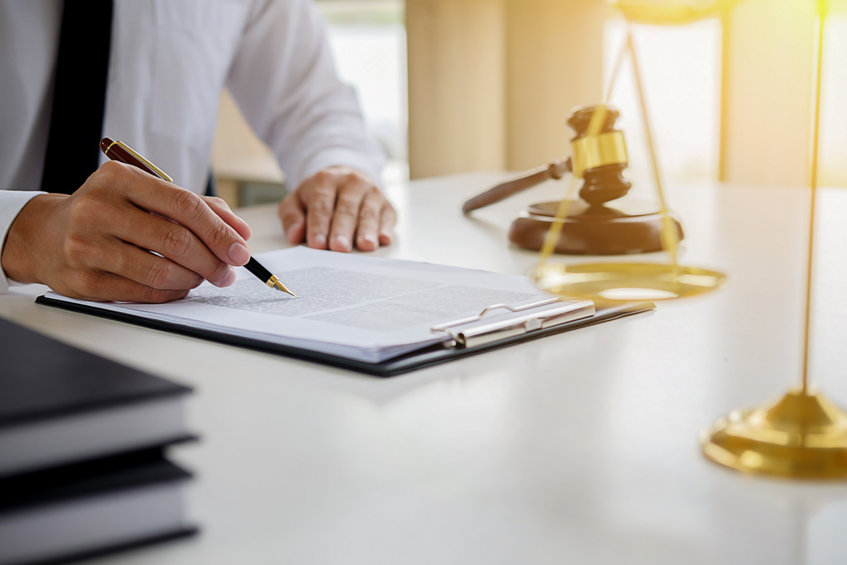 In this guide, we cover examples of accidents in a takeaway and how much compensation claimants have received in previous court cases. You will also learn how to sue a takeaway for an allergic reaction caused by their negligence and why a No Win No Fee agreement could benefit you. 
Read on to find out more. If you already want to take action, you can connect with us by:
Giving us a call on

0800 408 7827

Talking to our team using the live chat feature on your screen

Requesting a call back on our

contact

page
Choose A Section
How To Sue A Takeaway For Personal Injury
Those in control of a public place owe a duty of care to visitors under the Occupiers' Liability Act 1957 (OLA). If a takeaway breaches their duty of care, you could subsequently sustain a personal injury. However, it is crucial that you can prove you have suffered a personal injury as a result of their negligence to be able to form a valid claim.
Evidence that could strengthen your case and lead to you successfully claiming compensation may include:
Contact details of eyewitnesses who can provide a statement

Photographic evidence of your injury and the takeaway where the accident happened

CCTV footage relating to your accident

Medical records, including doctors' notes, that link to your accident and injury
If you think you have sufficient evidence to make a valid claim, speak to our team today. They could connect you to our panel of solicitors to check your eligibility to make a claim.
Examples Of Accidents In A Takeaway 
Under the OLA, takeaway occupiers have a responsibility to reasonably ensure the safety of everyone on the premises and should follow health and safety procedures. 
We've covered some example scenarios below for clarity:
Burn accidents:

Takeaways that serve hot food and drinks pose the risk of burn accidents. If a hot drink is not properly handled by staff and is accidentally spilt on a customer, their hands could be scalded. Therefore, it is important that the employer adequately trains employees on how to handle hot food and drink. If staff have received little to no training, the takeaway occupiers could be at fault.

Slips, trips and falls accidents:

Takeaway occupiers should always attend to wet floors to avoid staff or customers from slipping. Staff should deal with spillages as quickly as possible. If the takeaway occupiers neglect their duty of care, customers could fall and suffer

concussions

. In serious incidents, you could suffer a

broken rib

or

broken hip

. Consequently, if you slip on a wet floor that has not been attended to within a reasonable timeframe, you may have grounds to form a valid claim.

Poor maintenance:

If takeaway occupiers poorly maintain the premises, there could be several ways a customer could injure themselves. For example, obstructions in walkways or entrances could cause you to

slip or trip

up and sustain a

break or fracture

. As such, takeaway occupiers should carry out risk assessments to identify and prevent any potential dangers. 
In the aftermath of a personal injury, you may want to know how to sue a takeaway. Read on for further guidance or speak to someone from our team using the live chat feature on your screen.
How To Sue A Takeaway For An Allergic Reaction
Before we discuss how to sue a takeaway for an allergic reaction, firstly we will define what an allergic reaction is. The NHS defines an allergy as a reaction your body may have to a specific food or substance. An allergic reaction occurs when your immune system has a hypersensitive response to the food or substance entering your body. 
An allergic reaction could form valid reasons to sue a takeaway; however, you must prove that the takeaway occupiers' negligence caused your injury. Takeaways should disclose the allergen content of their foods appropriately. There are 14 main allergens that consumers should be made aware of if they're in the takeaway dishes.
You could, unknowingly, consume a dish with an allergen if:
Incorrect information is given on allergen content

There's no warning of the risk of cross-contamination of an allergen in a dish
You ask for an allergen to be removed from a dish, and are told that it will be, but it isn't
If you suffer an allergic reaction because of the above, you could claim. 
Additionally, customers should ask about the allergen content of foods where needed. If staff say that the allergen isn't contained in the food, but this turns out to be untrue and you suffer an allergic reaction as a result, it may be possible to make a claim.
If you have further questions on how to sue a takeaway for an allergic reaction, you can speak to our team of advisors. They are on call 24/7. 
How Much Compensation Could I Get After A Slip Or Trip In A Takeaway?
Each accident is different and compensation is awarded depending on a number of factors. However, it is possible to estimate what you could receive for various injury types. Solicitors use a document called the Judicial College Guidelines (JCG) to help them estimate compensation amounts for general damages, which account for any injuries caused by an accident. We have included a table below using the JCG to estimate the value of injuries you might suffer after a slip or trip in a takeaway.
| Injury | Severity | Guideline Bracket For Compensation | Notes |
| --- | --- | --- | --- |
| Severe Leg Injuries (i) | Very Serious (i) | £51,460 to £85,600 | There could be permanent issues with mobility with extensive treatment required. |
| Severe Leg Injuries | Serious (ii) | £36,790 to £51,460 | Arthritis is likely to occur and there may be extensive scarring. |
| Knee Injuries | Severe (i) | £65,440 to £90,290 | Considerable pain will have been caused and lengthy treatment is needed. |
| Knee Injuries | Moderate (i) | £13,920 to £24,580 | Injuries involve minor instability and the potential for mild future disability. |
| Ankle Injuries | Very Severe | £46,980 to £65,420 | Soft tissue damage could lead to deformity and create a risk of a below-knee amputation. |
| Ankle Injuries | Moderate | £12,900 to £24,950 | Symptoms include difficulty in walking on uneven ground or walking for long periods of time. |
| Foot Injuries | Severe | £39,390 to £65,710 | Injuries may render you unable to wear ordinary shoes and a drop foot deformity may be corrected by a brace. |
| Foot Injuries | Serious | £23,460 to £36,790 | There is a risk of future arthritis and any pain will be ongoing. |
Special damages cover any expenses or financial losses caused by your injury, including loss of earnings and medical fees. It is important that you keep bills, receipts or statements that can prove any expenses that you want to claim.
If your injury is not listed above, why not give us a call to find out about the average compensation settlement for your situation? Our advisors could explain the personal injury claims process too.
What Are The Conditions Of A No Win No Fee Agreement?
Now that you have some understanding of how to sue a takeaway, you might be considering finding legal representation. However, if you are concerned about legal fees, perhaps you may consider using the services of a No Win No Fee (NWNF) solicitor. 
Another benefit is that No Win No Fee solicitors require no upfront fees. They deduct a legally capped percentage from your winnings if your claim is successful. Furthermore, there are no solicitor fees to pay if your claim fails.
Our panel of solicitors work on a No Win No Fee basis. They could offer their services if they think you have grounds to make a valid claim.
Speak To Us About How To Sue A Takeaway 
If you feel you have more questions on how to sue a takeaway, or if you want to find out if you are eligible to use a No Win No Fee solicitor, our team is available to chat 24/7. You can get in touch by:
Learn More About How To Sue A Takeaway
Before we conclude our guide on how to sue a takeaway, we thought you might find the following resources useful:
You can learn more about personal injury claims from our guides:
If you have further questions on how to sue a takeaway, get in touch.
Article by JEN 
Edited by VIC