If you have sustained a personal injury while eating out, you may want to learn more about how to sue a restaurant. This guide could help you understand more about the personal injury claims process and how much compensation you could be entitled to if your claim is successful.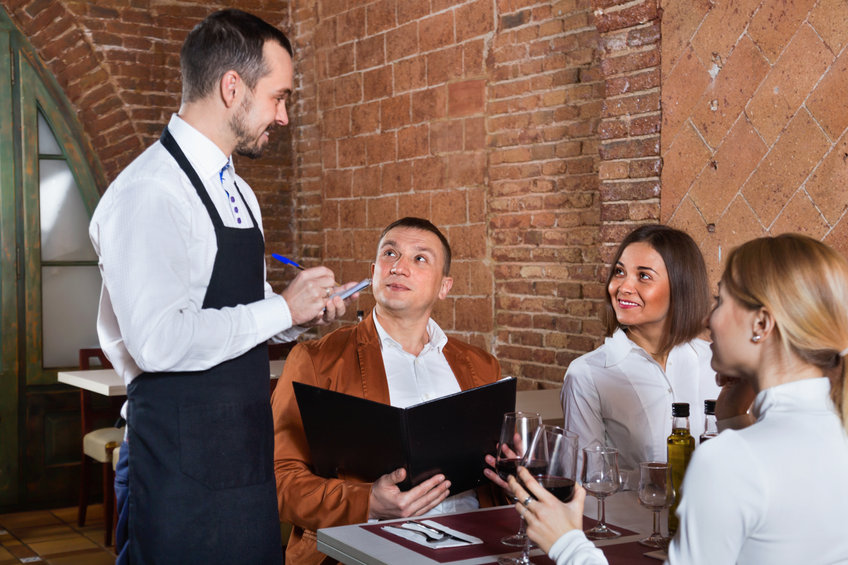 To help you understand whether you're eligible to seek compensation for the injuries you sustained, we have provided examples of how someone else's negligence could have caused a restaurant accident. 
Additionally, this guide will explore how a No Win No Fee arrangement could benefit you if you wish to hire a solicitor without paying an upfront fee for their services.
If you are ready to take action, you can:
Use the live chat feature on your screen

Call us on

0800 408 7827

Fill out the contact form with your details on our website and an advisor can call you back.
Choose A Section
How To Sue A Restaurant For Personal Injury
Under the Occupiers' Liability Act 1957 (OLA), third parties in charge of a public place, such as a restaurant, have a duty of care to visitors. If the person in control of a restaurant failed to uphold their duty of care and you sustained an injury as a result, you could have grounds to make a claim. 
There are steps you can take to strengthen your claim including gathering relevant and sufficient evidence. Evidence you could collect to support your claim might include:
An incident report detailing how the accident happened

Photographs of your injury and the accident

CCTV footage

Medical evidence, such as doctor or hospital reports detailing the treatment and diagnosis you received after seeking medical attention

Witness contact details
If you have further questions on how to sue a restaurant for personal injury, speak to our team today. They can provide additional information on preparing evidence for your claim.
Examples of Accidents in Restaurants
There are several ways that an accident could occur in a restaurant. It is worth noting that if an accident happens, you must be able to prove it was caused by the restaurant's failure to uphold the duty of care they owed you. Examples might include:
Slips caused by a wet or slippery floor:

For example, you may have slipped on a spill that was not properly cleaned up or signposted with a wet floor sign. As a result, you may have sustained a

broken cheekbone

or

concussion

after a slip, trip or fall.
Poor maintenance: The person in control of a restaurant may have failed to carry out regular risk assessments to highlight and address any hazards that pose a risk. As a result, you may have sustained

a cut on furniture that is broken, or a

broken rib

or

broken nose

after tripping on a loose floorboard that hadn't been signposted.

These are only a few examples so if you would like to discuss a different accident that caused you harm, our advisors can help.
They can provide you with more information on how to sue a restaurant. Simply, call the number above for more information.
How Much Compensation Could I Get After A Slip Or Trip In A Restaurant?
A slip, trip or fall accident in a restaurant could result in various types of injuries which could range in severity.
As such, the severity of your injuries may be taken into consideration when valuing your claim. Additionally, other factors could influence the overall settlement you receive, such as:
The future prognosis
The impact the injuries have had on your quality of life
Call our team for a free valuation of how much your claim could be worth.
How To Sue A Restaurant For An Allergic Reaction
According to the NHS, an allergy is a reaction your body has to certain foods and substances. They affect around 1 in 4 people in the UK at some point in their lives.
An allergy can cause a number of symptoms that may vary in severity. In serious cases, you could be hospitalised and may need emergency medical care. 
If you have experienced an allergic reaction to food in a restaurant due to a failure to take reasonable steps to prevent you from experiencing harm, you may be eligible to claim.
For example, you may have informed your server that you had an allergy to one of the 14 main allergens. However, they may have failed to ensure the message was passed to the kitchen. As a result, you may have gone into anaphylactic shock.
In these instances, you may be eligible to seek compensation for the harm you sustained.
Speak to one of our advisors on the number above for more details on how to sue a restaurant for an allergic reaction.
How Much Compensation Could I Get For Suing A Restaurant?
General damages seek to award compensation for the pain and suffering you experienced as a result of any physical and psychological injuries you have sustained. 
As each case is different, the award you receive under general damages will vary depending on factors unique to your case. For instance, medical reports can highlight the full extent of your injuries when valuing how much they're worth.
Furthermore, guidelines from the Judicial College are often referred to by solicitors to help them when valuing claims. The guidelines set out bracket compensation amounts associated with corresponding injuries.
The table below includes these guideline amounts. However, you should be aware the figures are not reflective of what you could receive as each claim is unique.
| Injury | Notes | Compensation Bracket |
| --- | --- | --- |
| Minor Brain or Head Injury | Cases where brain damage is minimal if there is any at all. | £2,070 to £11,980 |
| Moderate Back Injuries (b) (i) | Injuries might include a compression or crush fracture affecting the lumbar vertebrae. | £26,050 to £36,390 |
| Moderate Injuries to the Pelvis and Hips (b) (i) | Where there has been a significant injury with no major permanent disability. | £24,950 to £36,770 |
| Less Severe Wrist Injuries (c) | Injuries may still result in a permanent disability, such as ongoing pain and stiffness. | £11,820 to £22,990 |
| Serious Hand Injuries (e) | Cases where injuries have reduced the hand to 50 per cent capacity. | £27,220 to £58,100 |
| Less Serious Leg Injuries (c) (i) | Injuries might include serious damage to the soft tissues. | £16,860 to £26,050 |
| Moderate Knee Injuries (b) (i) | Injuries might include those that involve dislocation or a torn cartilage. | £13,920 to £24,580 |
| Very Severe Ankle Injuries (a) | Injuries might include a transmalleolar ankle fracture involving extensive damage to the soft tissues. | £46,980 to £65,420 |
| Damage to Teeth (f) | Cases of tooth pain that is chronic and significant and affects the person over a number of years. | Up to £35,790 |
| Serious Toe Injuries (d) | This bracket might include serious great toe injuries. | £9,010 to £12,900 |
It is also possible your compensation payout may consist of special damages. The financial expenses incurred as a result of your injuries are covered under special damages.
For example, if you have had to take time off work because of the harm you sustained, you could claim back the loss of wages incurred. Other examples of special damages include medical fees or any travel expenses.
You must provide evidence to support your claim for special damages, such as receipts or payslips.
What Are The Terms Of No Win No Fee?
No Win No Fee arrangements such as a Conditional Fee Agreement allow you to access the services of your solicitor without paying:
Ongoing costs

Upfront costs 
Additionally, if your claim fails, you will not need to pay a success fee to your solicitor. If your claim fails, the success fee will be deducted from your compensation. However, the fee is capped by law and is outlined in the agreement you sign before working with a solicitor on this basis.
Speak To Us About How To Sue A Restaurant 
Our advisors are available to discuss your potential claim in more detail. They can assess your case to ensure it's valid and has a strong chance of succeeding.
If it meets the relevant criteria, they could assign a No Win No Fee solicitor from our panel to represent your claim.
To get in touch for more information on how to sue a restaurant, you can:
Call

0800 408 7827

Request a call back by filling out the

contact

form on our website

Use the live chat feature below
Learn More About How To Sue A Restaurant
You may find the following resources useful:
You can learn more about personal injury claims from our guides:
We hope this article has helped you understand how to sue a restaurant. However, if you have any additional questions, please get in touch on the number above.