Have you recently sustained an injury following an accident in a gym due to someone else's negligence? If so, this guide on how to sue a gym may be helpful to you.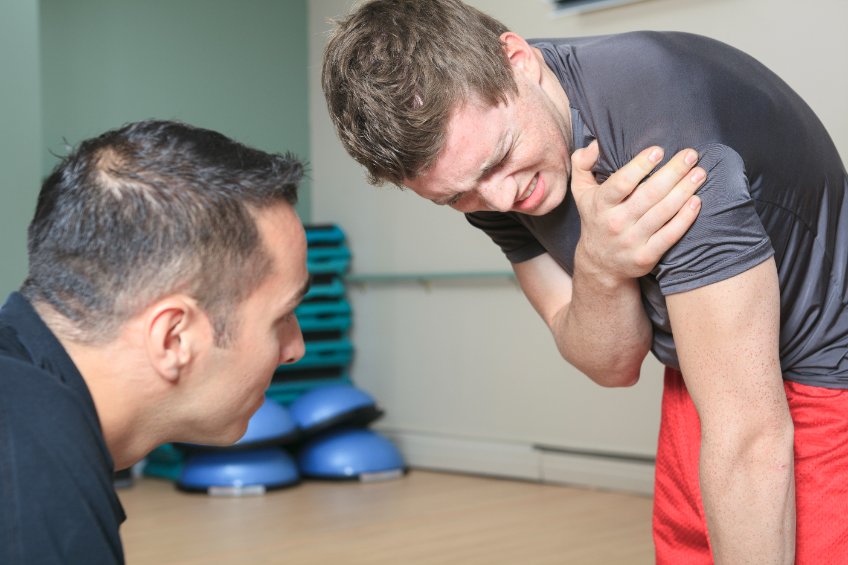 In order to make a claim, you must be able to prove that someone else's negligence caused your injury. Negligence involves someone breaching the duty of care they owed you. In this guide, we will explore the duty of care owed to you by the person in control of a public space, such as a gym.
We will also explore examples of accidents in gyms and the steps you could take should an accident occur.
Additionally, we will discuss how a No Win No Fee agreement offered by the solicitors from our panel could benefit you.
If you have any additional questions, please get in touch by:
Choose A Section:
How To Sue A Gym For Personal Injury
When looking at how to sue a gym for an injury, you should establish who owes you a duty of care in the gym.  
The Occupiers' Liability Act 1957 states that the person in charge of a public space must ensure that it is safe for the public to use for its intended purposes. This involves the person taking reasonable steps to remove or reduce the risk of any known hazards.
If they  were to breach this duty of care, it could result in you becoming injured. In order to make a successful personal injury claim, you must prove that the occupier breached their duty of care to you and, as a result, you were harmed in an accident. This could include both psychological and physical injuries.
If you want some advice on liability, contact our team of advisors using the information above for a free consultation.
Examples Of Accidents In A Gym
As outlined above, the legislation imposes a duty of care on the person in control of a public place, including gyms, to do everything they reasonably can to keep visitors safe. This means it is the occupier's responsibility to ensure that the gym is safe for public members to use for its intended purposes, i.e. to work out. However, there are cases in which the person may breach their duty of care, leading to accidents.
Examples of accidents that could occur in a gym might include:
Slips, trips and falls. Uneven or wet floors, loose mats and improperly stored equipment could cause a slip or trip in a gym, which could lead to a broken ankle injury.
Lack of training.

Gyms often provide induction sessions to familiarise customers with health and safety standards, equipment operation, and how to train safely. When this is not the case, customers could be more at risk of injury. 

Injuries caused by staff. Insufficient staff training can be dangerous when staff offer advice. Most gym equipment is mechanical and weighted; improper use could lead to many injuries such as a broken hip.
Maintenance. Equipment in constant use will require regular maintenance. Failure to do so may result in unreliability, breakages and risk of injuries, such as a break or fracture injury.
Not all incidents at a gym could lead to claims being made. However, if you have sustained harm due to negligence, call our team to find out whether you're eligible to claim and discuss how to sue a gym.
How To Sue A Gym For A Data Breach
Another incident that could occur at a gym is a personal data breach. Personal data breaches are security incidents that affect the confidentiality, availability and integrity of your personal data. This can include any information that can be used to identify you, such as your name, address and phone number.
The UK General Data Protection Regulation (UK GDPR), alongside the Data Protection Act 2018 (DPA), sets out the obligations expected of an organisation when processing the personal data of those who reside in the UK. As data controllers, those who set the purpose for processing your personal information, gyms must adhere to the rules set out in the UK GDPR and the DPA.
If they fail to do so, it could psychologically impact those whose personal information is compromised by causing stress or anxiety. Additionally, it could also have a financial impact and potentially affect relationships. To make a successful claim, you must prove that your personal data was compromised due to another organisation's failings and that because you this, you suffered mentally and/or financially.
If you are subject to a data breach, you can report the incident to the Information Commissioner's Office (ICO). While the ICO cannot award compensation, it can investigate your case, and its findings could be used as evidence. 
Contact our advisors if you have questions about how to sue a gym for a personal data breach.
How Much Compensation Could I Get In A Claim Against A Gym?
With personal injury claims, you can claim two heads of compensation:
General Damages: General damages intend to compensate for the pain and suffering you have endured because of the injury, both physical and mental.
Special Damages: These seek to provide compensation for any financial losses suffered due to your injury. This could be lost wages, travel expenses and private care expenses.
The amount of compensation you can receive under general damages depends on the circumstances of each case. However, the Judicial College Guidelines (JCG) provide an overview of the compensation brackets for various injuries. This is a document solicitors can use to help them value claims alongside other resources, such as medical evidence.
Please find below a table of compensation figures for various injuries that align with the 16th edition of the JCG. 
| Injury | Notes | Amount |
| --- | --- | --- |
| Severe Post-Traumatic Stress Disorder (PTSD) (a) | The person suffers from permanent effects that will stop the person from functioning like they used to. | £59,860 - £100,670 |
| Hand Injuries (d) | Amputation of the index and middle finger or ring fingers. | £61,910 - £90,750 |
| Severe Leg Injuries (b) (ii) | Injuries leave permanent mobility issues. They may also need crutches or mobility aids for the rest of their life. | £54,830 - £87,890 |
| Severe Knee Injuries (a) (ii) | A leg fracture that extends into the knee. This will cause constant pain. | £52,120 - £69,730 |
| Moderately Severe Psychiatric Damage Generally (b) | There will be a struggle with coping with all aspects of living. However, there will be a more hopeful outcome. | £19,070 - £54,830 |
| Serious Shoulder Injuries (b) | Dislocation of the shoulder and damage to the lower part of the brachial plexus causing shoulder and neck pain. | £12,770 - £19,200 |
| Other Arm Injuries (d) | A simple forearm fracture. | £6,610 - £19,200 |
| Foot Injuries (g) | Simple metatarsal fractures or ruptured ligaments are some of the injuries included in this bracket. | Up to £13,740 |
| Minor Back Injuries (c) (i) | Full recovery or recovery to nuisance level without surgery is to happen within 2-5 years. | £7,890 - £12,510 |
| Wrist Injuries (d) | Recovery from fracture or soft tissue injury will take longer than 12 months. | £6,080 - £10,350 |
The compensation you could receive may vary depending on your specific case. Additionally, for claims made following a personal data breach, compensation is valued differently.
Speak with our advisors if you would like more information on how to sue a gym for a personal injury or for a personal data breach.
How Could I Save With A No Win No Fee Agreement?
Our panel of solicitors could offer you a type of No Win No Fee service called a Conditional Fee Agreement. Many people opt for this arrangement due to the fact that you you won't be obligated to cover your solicitor's services if your case isn't unsuccessful.
If your claim succeeds, you will pay a success fee out of your compensation. However, there is a legal cap in place for this fee. 
You can speak with our advisors for more information about how to sue a gym. They can also provide more details on the services offered by our panel of solicitors.
 Contact us by:
Learn More About How To Sue A Gym
For more helpful articles:
Other external links:
We hope this guide on how to sue a gym for personal injury caused by negligence has helped. However, if you need any other information, please get in touch on the number above.
Article by ROB
Edited by MIT