If you have been injured at a museum in an accident that was caused by negligence, you might be wondering how to sue a museum. If so, this article could help.
In this guide, we'll offer guidance on what could form the basis of a valid claim and what you could do to strengthen your chances of getting a compensation payout.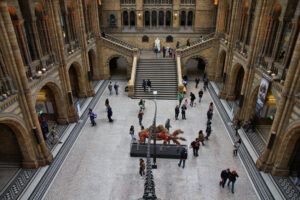 We'll also cover some example scenarios in which accidents could happen in a museum to give you clarification on how a museum could be liable for your injury. Furthermore, you'll learn how much compensation you could get in a successful claim. 
Ahead of starting a claim, it is always a good idea to seek legal advice. Solicitors can help you put together a strong claim and increase your chances of getting compensation.
Our panel of solicitors are trained to deal with personal injury claims and could help you with your case if they think you have a valid claim. Get in touch with our team by:
Choose A Section
How To Sue A Museum For Personal Injury
Museums, like any public place, can contain hazards that should be controlled to avoid accidents from happening. Under the Occupiers' Liability Act 1957, the party in control of the space (who is called the occupier in the legislation) owes a duty of care to visitors.
If this duty of care is breached and you sustain a personal injury as a result, you might be able to make a claim. The occupier of a public place, despite the name, does not need to actually occupy the space for there to be a duty of care. They just need to be reasonably expected to spot a hazard and be able to take steps to reduce or remove it. 
Another consideration to bear in mind is that you need to start your claim within the appropriate time limit for doing so. Generally, this is three years from the date of the incident, or the date when you connected negligence with your injury.
Learning how to sue a museum doesn't have to be complicated, as our guide will show. Read on to find out more, or speak to an advisor today. 
Examples Of Accidents In A Museum
It is worth noting that not all accidents in a museum will be caused by negligence. If you are claiming for an accident thatcaused you to be injured, you must also make sure it happened because the occupier of the museum neglected the duty of care that they owed you.
Below, we've listed some ways in which a museum could be liable for your accident and subsequent injuries:
Slips, trips and falls:

Museum occupiers should carry regular checks for loose, damaged or worn flooring and replace when necessary. Failure to do so could lead to you tripping up and sustaining a

broken nose

or broken ankle.
Falls from heights:

Some museums are large in size and span several floors. As such, there could be a risk of falling from a high floor and sustaining an injury like a

broken hip

,

broken thumb

or injured

ring finger

.

This could happen if, for example, the barrier around a mezzanine floor of a museum were to break and you fell as a result. 

Electric shocks:

Electricity may be used by a museum to heighten the impact of artworks on show. If risk assessment is not carried out on electrical equipment and it is faulty, you may sustain an electric shock when coming into contact with such equipment. 
If you have any further questions on how to sue a museum, speak to our team. They can advise you on your accident and whether you could make a valid claim against the museum.
How To Sue A Museum For Slips Or Trips
When learning how to sue a museum for slips or trips, it is worth noting how these types of accidents could happen as a result of a museum's negligence. For example, poor maintenance may lead to a slip or trip accident.
For example, a slip or trip might be caused by:
A wet floor that has not been cleaned up or signposted in a reasonable timeframe
A walking surface that has had unsuitable cleaning products used (for example, a wax that makes it too slippery)
Clutter left in a walkway, for example part of a new exhibit that has not yet been unpacked is left where a visitor can trip over it
There are several things that you can do to support your claim. These include:
Seeking medical attention after sustaining your injury; medical reports offer key evidence of an accident happening and also of your injuries. You might also be asked to attend an independent medical assessment as part of the process of claiming

Take photographs of your injury and the scene where it happened 

Obtain CCTV footage of the accident happening, if it exists

Collect contact details of any witnesses who can provide a statement at a later date 
Although you may suffer an injury because of a museum accident that wasn't your fault, you must be able to prove that the museum ignored their duty of care to you to make a claim. Our team can advise you on your case and help you find out if you have a valid claim.
How Much Compensation Could I Get In A Claim Against A Museum
Ahead of making a claim, you may be wondering how much compensation you could get. There are two types of damages you can claim for:
General damages: This part of your settlement relates to the physical or psychological harm caused by your injury.

Special damages: This part of your settlement relates to financial losses you have incurred because of your injury.
We've created the table of compensation brackets below using the Judicial College Guidelines (JCG). This is a document that legal professionals can use to value injuries based on previous court cases. You can use this table to see how much you could be owed. 
Injury
Compensation Range
Notes
Severe (i) Back Injuries
£91,090 to £160,980
Damage may have happened to the spinal cord and nerve roots causing severe pain and disability.
Severe (i) Neck Injuries
In the region of
£148,330

May involve ongoing severe headaches that have proved intractable.
Serious Shoulder Injuries
£12,770 to £19,200
Intrusive symptoms may be permanent following soft tissue injury.
Severe (i) Injuries to the Pelvis and Hips
£78,400 to £130,930
Extensive fractures of the pelvis that may involve dislocation of a low back joint.
Serious Damage to Both Hands
£55,820 to £84,570
Permanent cosmetic disability is likely and hands may lose function.
Severe Leg Injuries
£96,250 to £135,920
Injuries may lead to gross shortening of the leg.
Severe Ankle Injuries
£31,310 to £50,060
You may suffer from regular sleep disturbance, unsightly scarring and may require special footwear to walk.
Serious Foot Injuries
£24,990 to £39,200
There could be risk of fusion surgery and future arthritis.
Fractures of Nose or Nasal Complex (i)
£10,640 to £23,130
Multiple fractures may lead to difficulty breathing and facial deformity.
Burns
Likely to exceed £104,830
A great degree of pain will have happened causing ongoing physical and psychological injury.
It is worth noting that these figures may not reflect the amount you actually receive. Compensation varies depending on the severity of your injuries and other factors that are relevant to your case.
For a more specific estimation of your claim's value, speak to our team. An advisor can offer a free estimate of what you could claim.
Do I Need A No Win No Fee Lawyer?
Now that we've provided clarity on how to sue a museum, you may be interested in seeking legal representation. However, you might be concerned about the upfront costs, or costs that your lawyer could ask you for as the claim is ongoing. If this is the case, you might be interested in a No Win No Fee or Conditional Fee Agreement. 
Alongside there being no upfront solicitor fees, a No Win No Fee agreement covers any ongoing legal costs during the claims process. Instead, you'll pay your lawyer a legally capped percentage of your compensation once your claim is settled. Furthermore, if your claim fails, you won't pay this fee to your lawyer. 
Our panel of solicitors are able to offer their services on a No Win No Fee agreement, on the terms that you have a valid claim. We do this because we believe funding legal representation should not be an obstacle to you beginning a claim.
Speak To Us About How To Sue A Museum
If you are interested in using a No Win No Fee lawyer, or you have any questions about how to sue a museum, why not speak to our team? Our advisors offer the best support and advice and may connect you with our panel of solicitors if they think your claim holds up. The various ways you can get in touch include:
Speaking to an advisor using the live chat feature on your screen

Requesting a call back using our contact form

Giving us a call on

0800 408 7827
Learn More About How To Sue A Museum
Here are some additional resources that may come in handy.
111 online – Get guidance and support from the NHS on your symptoms.
Statutory Sick Pay – How to claim financial support from the government if you've taken time off work following your accident.
The Royal Society for the Prevention of Accidents – RoSPA offers advice on how to avoid accidents.
If you have found this guide useful, you may be interested in some more of our articles.
Claiming For a Break or Fracture – A guide on how to sue for a break or fracture.
Criminal Injury – A criminal may have caused your museum accident. Here's what to do if so.
How To Sue Your Local Council – Councils are directly responsible for around 350 museums in England. Following a museum accident, you may want to sue your local council.
We hope you are satisfied with this guide and understand more about how to sue a museum. For further queries, speak to our team today.
Article by Lew
Edited by Fer